Asparagus Stuffed Chicken Breast Recipe– Chicken breasts stuffed with asparagus, sun-dried tomatoes, and mozzarella cheese, and baked in the oven. Tender, juicy, keto-friendly, easy to make chicken breast seasoned with garlic powder, paprika, and Italian seasoning mix.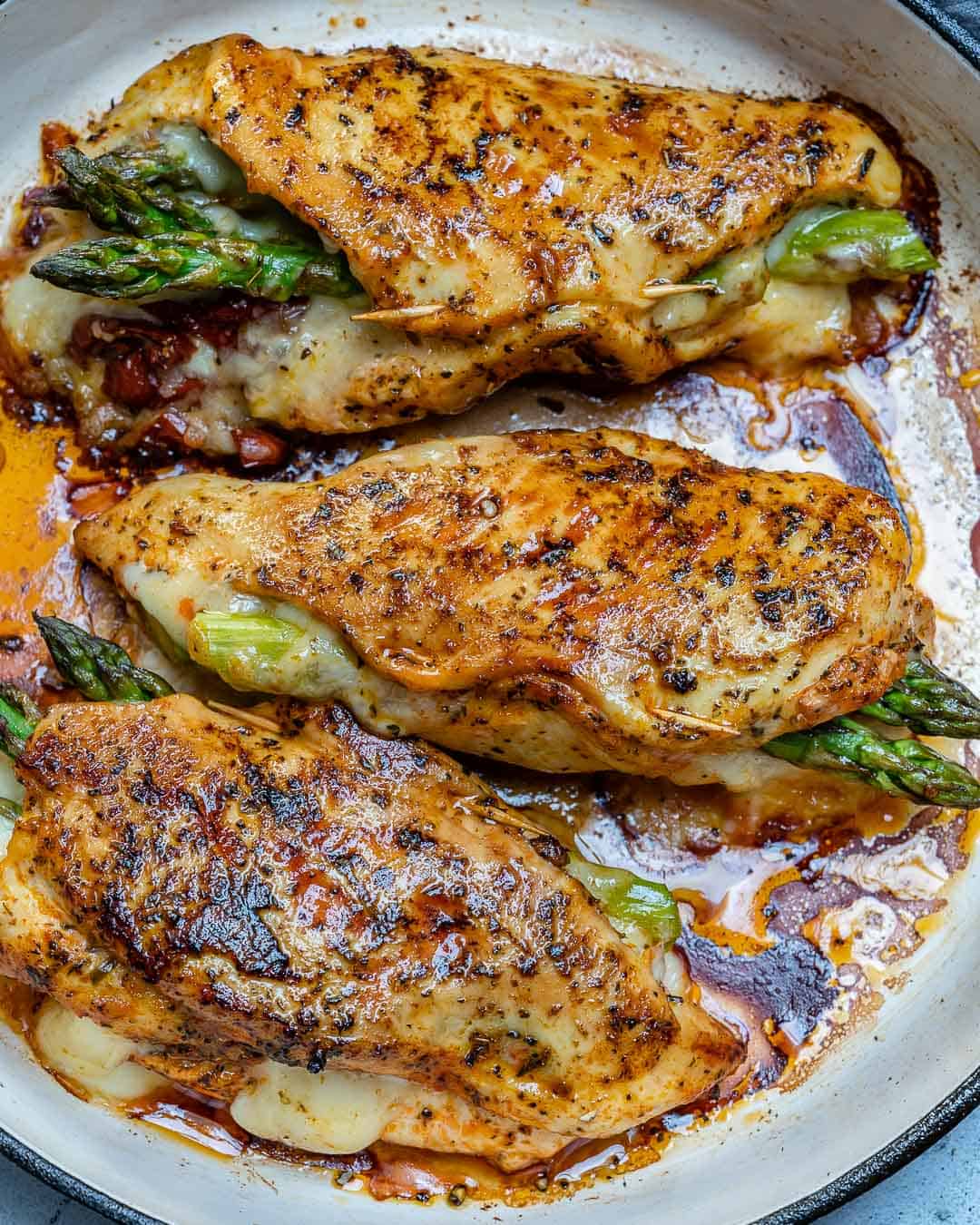 With only a few ingredients needed to make this low carb asparagus stuffed chicken recipe, dinner will be ready in no time. Tired of having simple chicken breasts? Add a twist to your chicken recipe and stuff them with your favorite veggies and cheese. You can enjoy these stuffed chicken as is, make some roasted veggies on the side or use some of your favorite side dish recipes. We will tag a few side dishes towards the end to go along with this. Also, they will taste great with a side of brown rice or quinoa.
HOW TO MAKE ASPARAGUS STUFFED CHICKEN BREAST RECIPE
Preheat Oven: We recommend anywhere between 350-400F. For this stuffed chicken recipe we went with 400F.
Season the chicken: Place the chicken on a clean chopping board and sprinkle with Italian seasoning, garlic powder, paprika, salt, and pepper.
Create a pocket in the chicken: Start cutting each one lengthwise to create the pockets. Be careful not to cut all the way through. Start with the top thick part of the breast as shown in the how-to video down below.
Stuff the chicken: Add 3 springs of asparagus and a couple of pieces of sun-dried tomatoes to a mozzarella slice, then roll it to hold them inside. Stuff the chicken breasts with it. Close the pocket with a toothpick.
Cook on skillet: Heat oil in a large and cast-iron skillet over medium-high heat. Then, add in the chicken and sear it until nicely golden brown, about 3-5 minutes per side.
Bake: Finally, bake the chicken for 15-20 minutes, or until it is cooked through and no longer pink on the inside. Enjoy!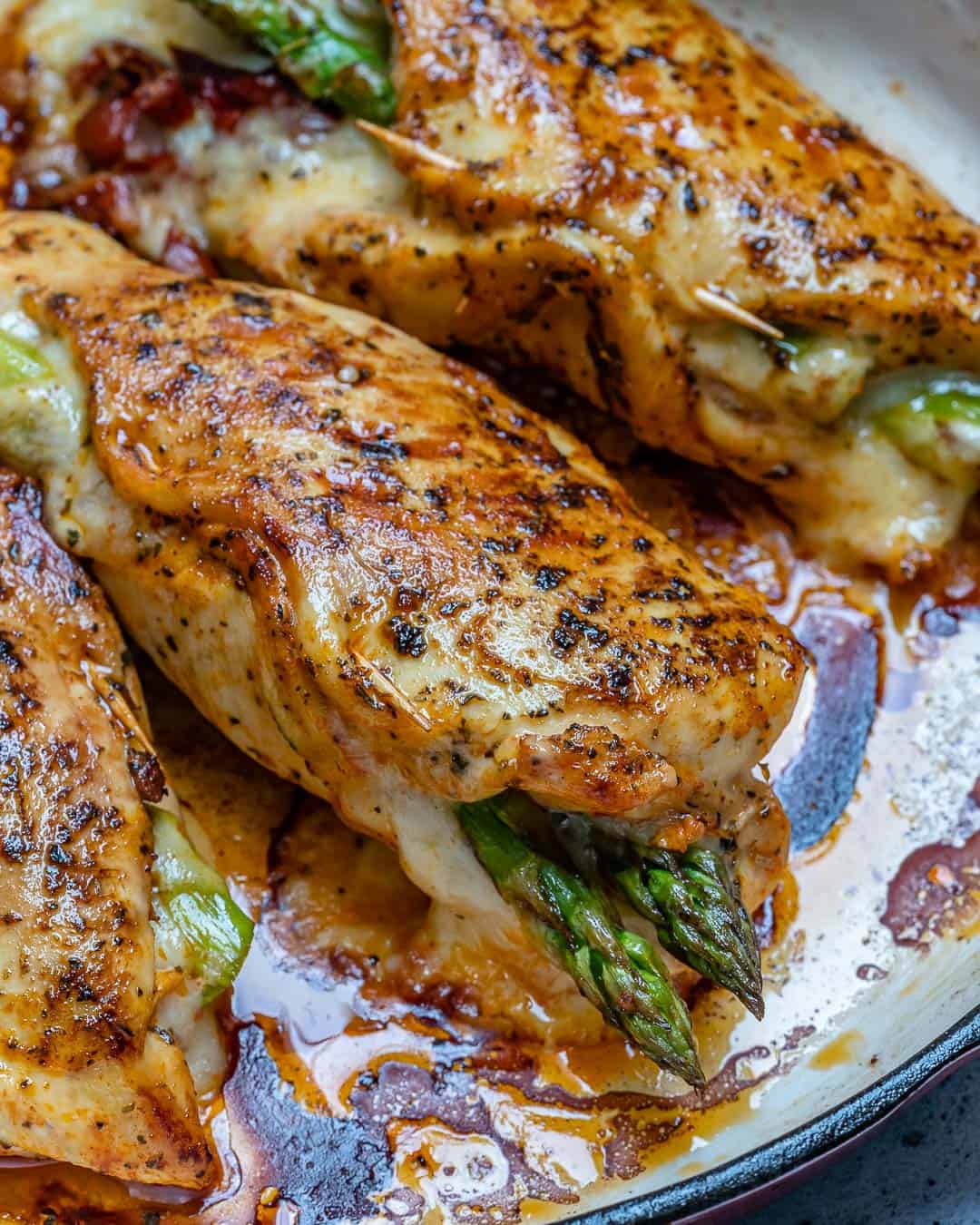 WE HAVE SOME FAQS FOR YOU.
If we missed any questions that you may have, feel free to leave your questions in the comment section below.
HOW DO YOU MAKE CHICKEN NOT CHEWY?
When it comes to cooking chicken breast, it can get a bit dry or chewy when they are overcooked. Try not to overcook your chicken to prevent them from getting that chewy texture. If you aren't sure at what temperature to cook your chicken, start at 325 F so it cooks slower and retains moisture.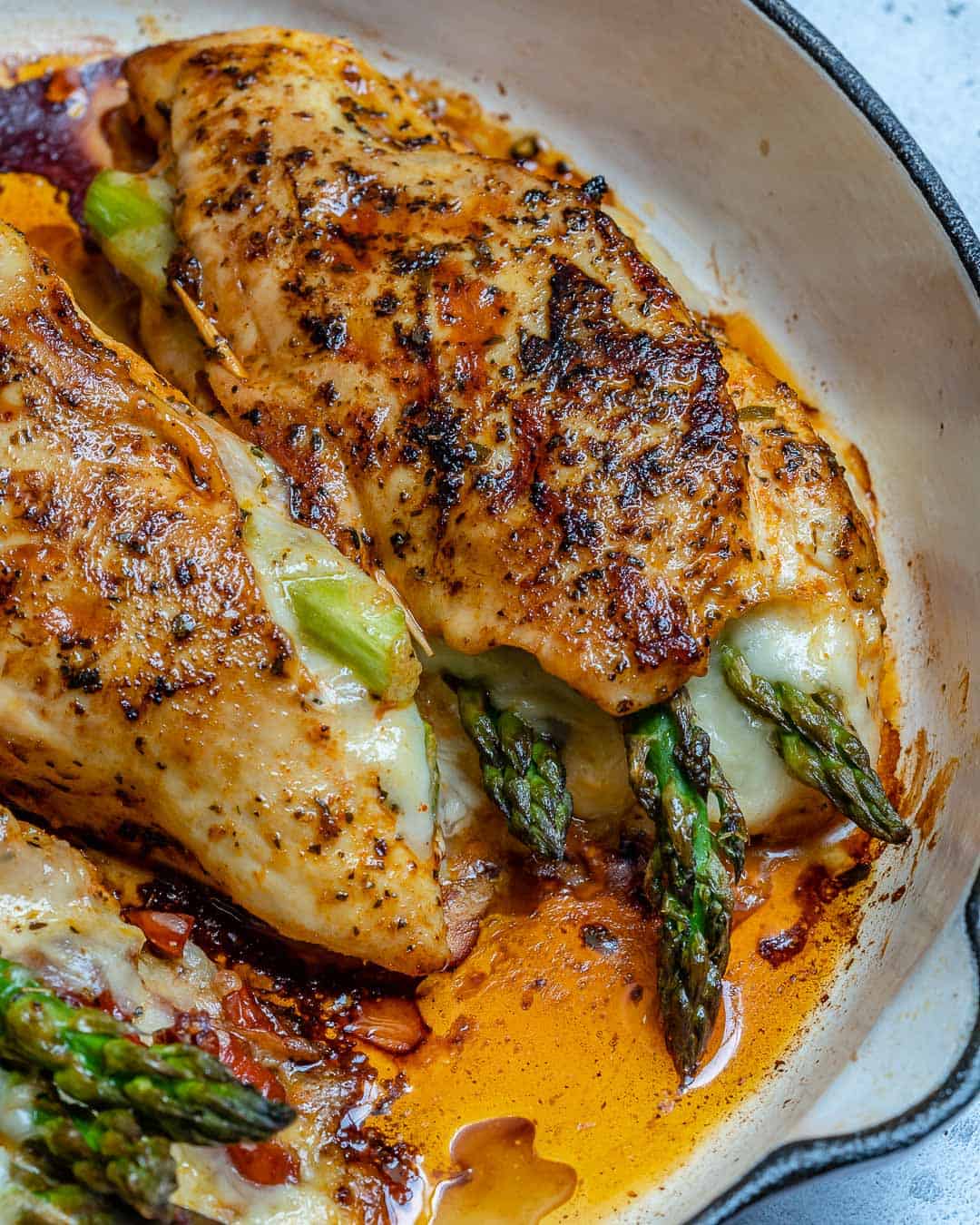 HOW LONG SHOULD I COOK CHICKEN?
If cooking chicken in the oven, it should take approximately 20 to 30 minutes if you prefer baking or roasting and set the oven at 375 degrees F. Cooking your chicken on the grill? it should take about 6-8 minutes on each side when using direct heat.
CAN I FREEZE COOKED STUFFED CHICKEN BREAST?
You may freeze leftover the cooked stuffed chicken breast for up to 3 months. Make sure your store the breasts properly in an airtight container to prevent them from getting freezer burned. Stuffed chicken breast lasts  4-5 days when stored in the fridge.
HOW TO CUT BREAST FOR STUFFING?
Lay the chicken breast flat with think part up and lay your hands flat on the chicken breast. Using a knife carefully starts slicing each one lengthwise to create the pockets starting from the top thick middle part of the breast as shown in our video tutorial below. Be careful not to cut all the way through.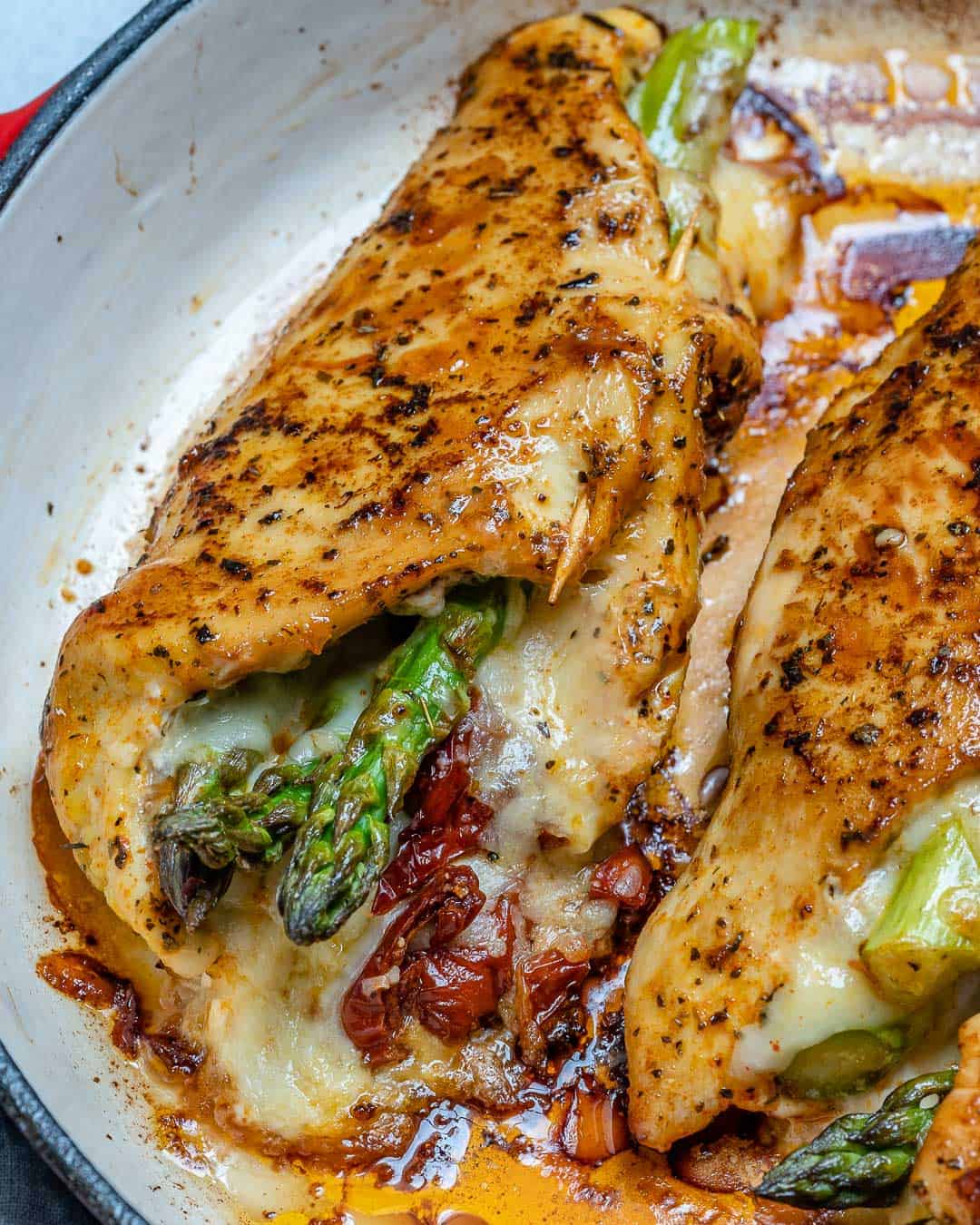 DOES CHICKEN COOK FASTER COVERED OR UNCOVERED?
Chicken in the oven cooks faster when covered and retains moisture best this way. Cooking your chicken uncovered the whole time might cause your chicken to dry out before fully cooked. Cover chicken for the first 20 to 30 minutes to prevent drying out and overcooking and then uncover for the last 10-15 minutes to brown it and get a crispy outside. A Stuffed chicken breast recipe cooks differently though because the chicken is sliced thinner and stuffed with veggies which gives additional moisture to your chicken.
HOW TO SEAL STUFFED CHICKEN BREAST
We have found that the best and easiest way to seal a stuffed chick breast is by using 2-3 toothpicks to attach the edges of the chicken together to seal them. This will ensure that the stuffing stays in the chicken and doesn't flow out when it condenses while cooking. You can also see how to do this in our video below.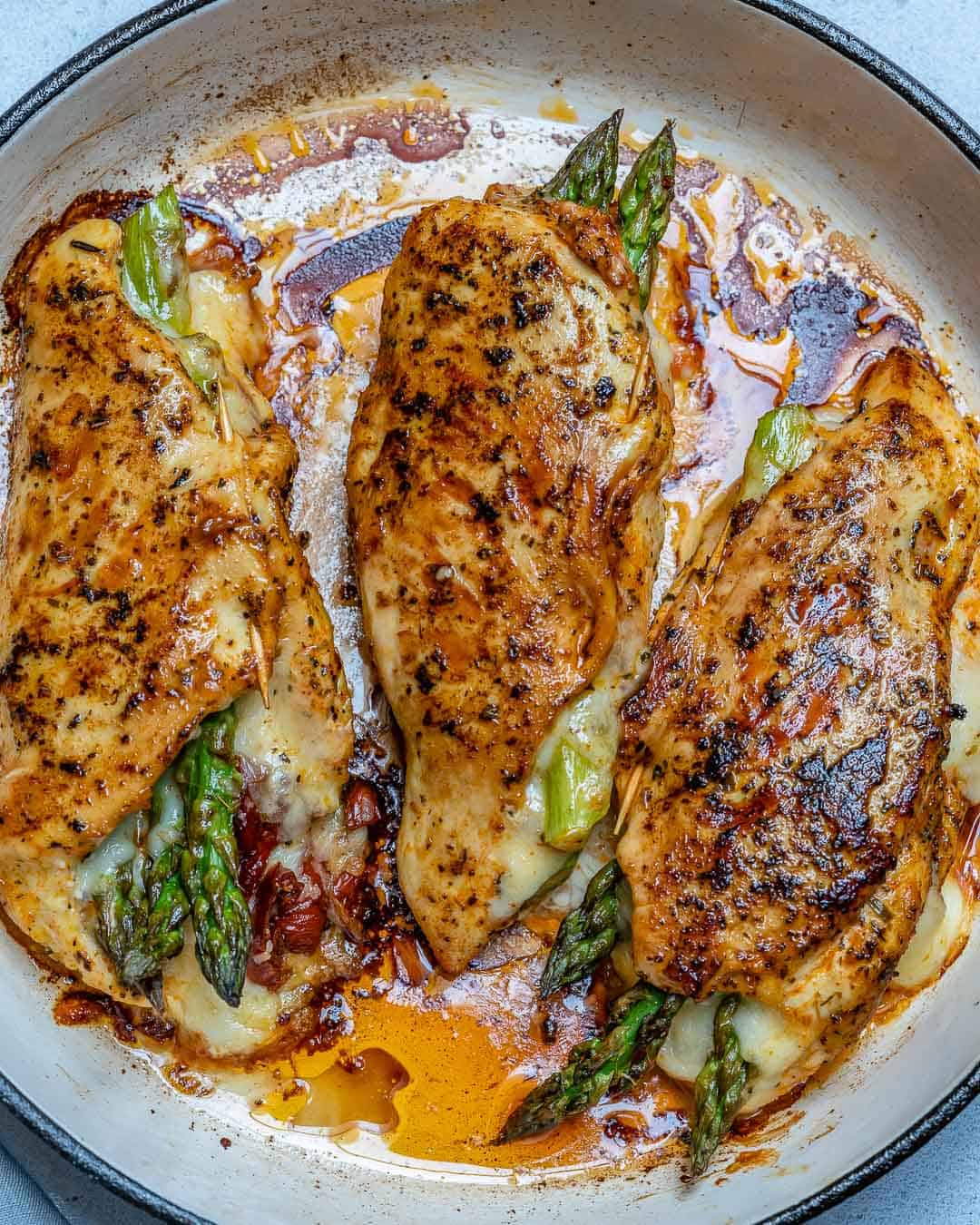 MAKING THIS STUFFED CHICKEN BREAST RECIPE?
We hope you love this asparagus stuffed chicken breast recipe as much as we do. If you make this recipe and you like it please rate it and leave us some feedback in the comments below. Don't forget to pin it and tag us on social media so we can see your remake.